Principal's Desk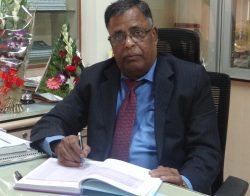 Dr. Ashok Agrawal
Welcome to Kaveri College of Arts, Science and Commerce. We are a student- friendly institution that strives to give the best quality education, infrastructure and other facilities to the citizens of tomorrow. With us, you will join 700 intelligent and committed fellow students, from Pune as well as from outside Pune and benefit from the excellent training we offer.
"We believe education is a process of shaping a student to become an individual of good character, competence, conscience and maturity."
At Kaveri, we are aware of the global changes and challenges. We believe that the only way to achieve 'Excellence in Education' is by providing quality education, excellent facilities and offering numerous opportunities for all-round development. With this view in mind we provide innumerable opportunities to our students to hone their interpersonal skills, presentation skills, business skills, and research skills through various competitions like paper presentations in various fields. We also provide a platform to the students for enhancing their event management skills, leadership skills and inter personal skills through the platform provided by 'Yuva Spandan', our grand Inter College youth festival.
Our students excel at various inter-college competitions and in academics. Our results showcase the exemplary performance of our students. We have a special 'Placement Cell' to provide you with career guidance and opportunities for placement in top companies through campus interviews. Many of our alumni have been placed in companies such as Success Publications, Persistent Systems and Indus Health Plus and many more.
Whether you want to build a career in the field of commerce or science, or join the next generation of researchers and academicians, our qualified, experienced and committed staff and well-equipped facilities will prepare you to make the most of the vast career opportunities available globally.
We look forward to welcoming you in our campus to be a part of a remarkably enriching experience with us.